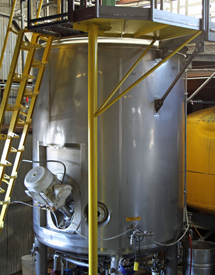 Sanitek has extensive capabilities for chemical blending, formulation and bulk storage at its facility including heat process. Capacity ranges from 5 gallons to 5,000 gallons heat process batches, from drum quantities to full container loads, with a total of over 100,000 gallons of bulk storage. Our newest stainless steel reactor can process up to 3,500 gallons, capable of full vacuum to 60 psi and temperatures to 270 degrees F, and outfitted with a high-speed blender and a general purpose blender.
We maintain several stainless steel steam-jacket process vessels ranging from 50 to 2000 gallons, outfitted with high-torque to high-speed agitators.
Sanitek offers private labeling, from silk-screen to full-color labeling over a variety of packaging options on all our standard formulations with minimums as low as 20 cases.
We now offer on-site printing of single color labels on chemical resistant, permanent adhesive stock for our customers. This means no extra charges for film positives or silk-screens, or artwork for standard designs.